Description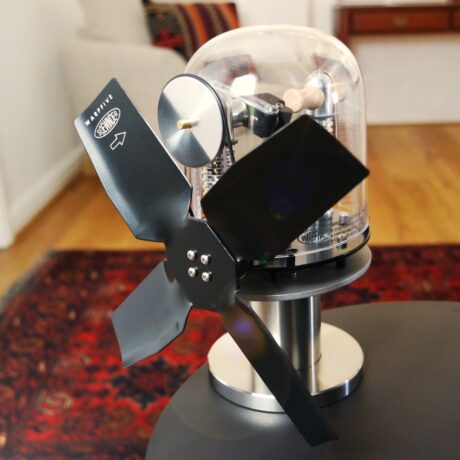 Description
The Sidewinder is a small heat powered stove fan which operates across a broad range of temperatures.
It'll work on any medium to hot stove surface and starts operating at 110° C (230° F). 
Named the Sidewinder for its dual pulley and belt operating mechanism – it has an intriguing Stirling engine design which is captivating to watch plus highly functional.
The stepped up pulley ratio increases the Sidewinder's RPM and enables it to move an impressive 322 CFM (cubic feet per minute) of air.  
When you use a Sidewinder stove fan you can reduce your wood usage by up to 22% and heat your room up to 40% faster.
If you are the owner of a diesel or catalytic stove, please read advice on the FAQs page.
PLEASE NOTE DUE TO A GLOBAL SHORTAGE OF PRECISION GLASS AND A LACK OF SUPPLY, THE BOROSILICATE GLASS PISTON SLEEVES MAY BE UPGRADED TO BURNISHED ALUMINIUM SLEEVES.  THE ALUMINIUM PISTON SLEEVES OFFER SLIGHTLY IMPROVED PERFORMANCE.
Stirling Engine Design
Warpfive stove fans are small precision engineered Stirling engines, which are 100% mechanical and do not have any electric components which may stop working if overheated. Consequently they are extremely reliable and with care will last a lifetime. Find out more here
Every engine is precision engineered and hand built with durable materials like stainless steel, aluminium, brass and Borosilicate glass.  As a result they operate quietly – typically 28dB.  
Advanced materials (such as graphite) and low friction bearings ensure low maintenance, plus heat flow is optimised with a silver thermodynamic heat plate.
Stirling engine stove fans have a high power output and low start up speed so they move large volumes of warm air. 
Every engine is hand-crafted, assembled and tested in Great Britain.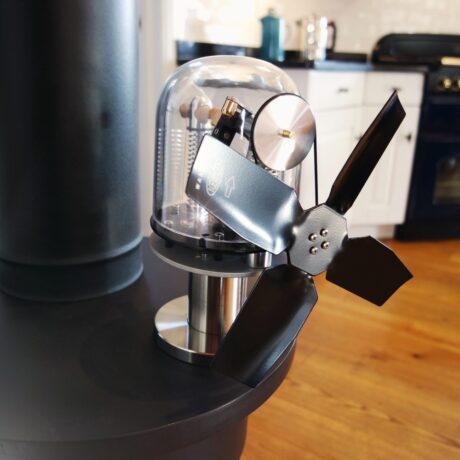 WARPFIVE 22/23 – NEW RANGE EXPLAINED
At Warpfive we are constantly striving for performance perfection so we are delighted to bring our latest range to you. Please take a look at the new product images to view the design modifications which include –
Bearing cartridge system offering reduced friction and ease of replacement – read more

 

here
CNC acuminated aluminium posts for improved thermodynamic performance
A shortened, light-weight composite crank for higher RPM and increased power
A beech wood handle for easy handling 
Small heat powered stove fan - Sidewinder
Small heat powered stove fan
Complex Stirling engine design with solid stainless steel base for improved thermodynamics
Start-up temperature 110° C (230° F)
Maximum stove top temperature 450° C ( 842° F)
Circulates in excess of 322 CFM (cubic feet per minute) of air
Uses a 4 blade high aspect ratio fan (220mm, 8.6 inch diameter) to circulate maximum air at low RPM
Light weight composite crank
Operation is quiet – typically 28dB
Stainless steel displacer and regenerator boost performance
Low profile design – measures 225 mm (8.8 inches) in height
Dust Cover, maintenance kit and spare belt included
3-year manufacturer's warranty
Overall height: 225 mm/8.8 inches
Base dimensions: 110 mm/4.3 inches
​Weight: 1.8 kg/3.97lbs
​Fan diameter: 220 mm/8.6 inches​
Sidewinder Stirling Engine Stove Fan
Average rating:
12 reviews
Nov 8, 2022
Functional artwork
I saw one years ago in a woodstove store but they refused to sell it. Came across the web site a while ago and ordered one. Couldn't wait for it to get cold enough to use. Don't know how much air it moves, don't really care . It looks so cool running on stove.
May 16, 2022
Sidewinder
Beautifully finished fan, prompt delivery and a great product.
Looks fantastic and works perfectly, a great talking point with visitors.
Thank you
Jan 22, 2022
Sidewinder stove fan.
The fan is whirring around as I write this review and I have to say it's pretty impressive .
The well packaged fan arrived safe and sound together with tools and instructions etc.
The stove fan is certainly very well made and looks fabulous on the stove top.
Definitely deserves 5 stars for looks alone .Thankyou Warpfive .
Dec 6, 2021
Great fan, great service
I recently purchased my second Sidewinder - so the woodburner looks more symetrical!
Fabulous looking and efficient fan, very quiet too. Delivery was fast and the service from Warp Five was excellent especially in regard to a spare belt for my older fan as it differs slightly from the current Sidewinder iteration. Thank you very much.
Now my stove is warmer than ever but looks even more "cool" than it did before!
Dec 2, 2021
Beautiful and arrived quick and intact
Despite the name, the product shipped at what must have been warp nine. Arrived in the US after 2 days perfectly intact. I'm impressed with the quality of design and how well it functions. I am a bit wary of the plastic dust shield- it seems to hold up after a typical use, but given how hard it is to accurately measure the temperature of clear plastic, and the possible mess it would make if it melts, I probably won't be using it during operation. It seems to move a fair amount of air, looks stylish, and is nigh silent. Being a nerd, I would have appreciated an info pamphlet explaining the mechanism, but otherwise very solid product.
Mar 10, 2021
I have long hair and I can say with honesty that this fan is a better purchase than my hair brush!
I ordered the sidewinder after marvelling at how awesome and cool it looked. At that moment it didn't matter if it worked or not! But it does work and that makes the happy feeling in my belly from earlier even better and bigger! It's one of those purchases that just feels worth it. Everyone should have one, even if you don't have a stove you could put it in your frying pan to push the magical smell of bacon around the downstairs of your house. I have long hair and I can say with honesty that this fan is a better purchase than my hair brush!
Jan 16, 2021
Silently, efficiently, pushes heat into the room
The stove fan is great thanks. It's an intriguing and attractive engineering curiosity and silently, efficiently, pushes heat into the room. I'm recommending them to all my neighbours who have wood stoves