Description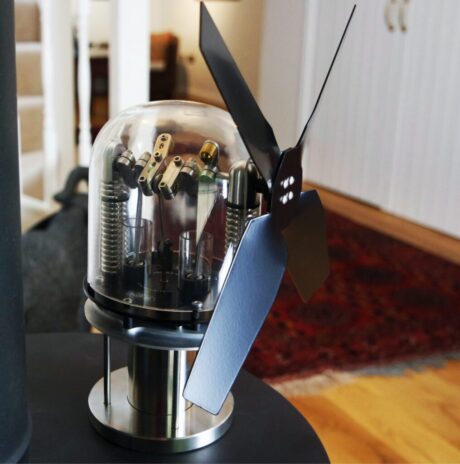 Description
The Steelhead Stirling engine stove fan has a classic design offering excellent performance across a broad range of temperatures.
It works on any medium to hot stove surface and starts operating at 110° C (230° F).  When you use a Steelhead stove fan you can reduce your wood usage by up to 22% and heat your room up to 40% faster.
If you are the owner of a diesel stove, please read the advice on the FAQs page.
Stirling Engine Stove Fan
Warpfive stove fans are small precision engineered Stirling engines, which are 100% mechanical and do not have any electric components which may stop working if overheated. Consequently they are extremely reliable and with care will last a lifetime. Find out more here
Every engine is precision engineered and hand built with durable materials like stainless steel, aluminium, brass and Borosilicate glass.  As a result they operate quietly – typically 28dB.  
Advanced materials (such as graphite) and low friction bearings ensure low maintenance, plus heat flow is optimised with a silver thermodynamic heat plate.
Stirling engine stove fans have a high power output and low start up speed so they move large volumes of warm air. 
Every engine is hand-crafted, assembled and tested in Great Britain.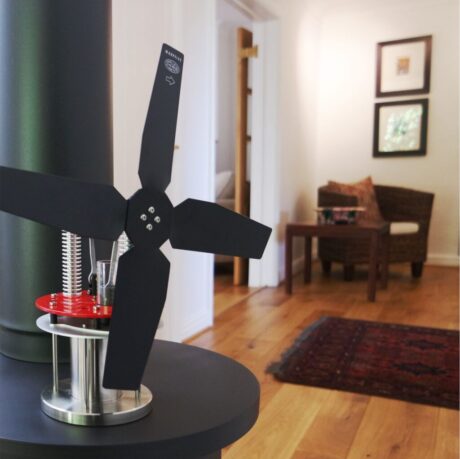 Latest Features
The 2021/22 Steelhead model includes the following design modifications –
Solid stainless steel base with no uprights for improved thermodynamic performance
Profiled fan blade for enhanced air circulation
Light-weight composite crank for higher RMP
Dust cover included
Steelhead Stove Fan (black)
Stirling engine with solid stainless steel base for improved thermodynamics
Start-up temperature 110° C (230° F)Maximum stove top temperature 450° C ( 842° F)
Circulates in excess of 320 CFM (cubic feet per minute) of air
Dust Cover and maintenance kit included
Uses a large 4 blade high aspect ratio profiled fan (285mm, 11.2 inch diameter) to circulate maximum air at low RPM
Light weight composite crank
Operation is quiet – typically 28dB
Stainless steel displacer and regenerator boost performance
3 year manufacturer's warranty
Overall height: 325 mm (12.8 inches)
Base dimensions: 110 mm (4.3 inches)
Weight: 1.8 kg / 3.97 lbs
Fan diameter: 285 mm (11.2 inches)
Steelhead Stirling Engine Fan
Average rating:
11 reviews
Dec 15, 2021
I would rate this a 10
The fan arrived in good condition. My  son's Christmas  Present.  He put it on his stove and loves it. I would rate this a 10.
Dec 12, 2021
Steelhead Review
I saw a Youtube video by Wranglestar about your stirling engine fans and was quite taken by the design. Being an aficionado of mechanical things I had to check it out on your website. I promptly ordered your Steelhead model and it arrived here in the US within 5 days. It was supposed to be a Christmas present but I had to see it work as soon as I got it. It is a beautiful and precise piece of machinery. It runs quietly when the fan slows down it means to add more wood to the stove. It has attracted a lot of attention to itself. We have burned out 2 of the electric stove fans this should last us the rest of our lives. Thanks for a wonderful product.
Dec 11, 2021
Works Great
I ordered a Steelhead and had it shipped to France with no problem (except, of course VAT). It is used on a diesel stove on my barge, which is small enough that it isn't necessary to add spacers to lower the heat. I am delighted with it, being well-made and stylish.

Patrick
Dec 11, 2021
Not bad at all
Ordered, arrived very quickly, simple instructions, worked from day 1 and hasn't stopped. Every now and again you find something that has been properly made and works with no fuss or bother - this is one of those. Well done!
Apr 21, 2021
The fire makes more noise than the fan
I ordered this unit a little late for much use in the winter season here in Colorado, USA. Ordering was easy, and the item arrived faster than other packages from within the US. I've only used the unit a bit more than a dozen times, but it has worked flawlessly and is extremely quiet, the fire makes more noise than the fan. It looks to be well made and I expect to be using it for many seasons. 5 stars.
Feb 5, 2021
An improvement with warm air circulation
We're extremely happy with our Warpfive wood stove fan. Having used a stovetop fan for many years and it needed to be replaced, we can certainly see an improvement with warm air circulation now with our new fan. And the clever engineering is fascinating.
Jan 22, 2021
Well done Warpfive and 5 Stars from me
I am all for giving praise where it is due. The service I have received from 'WarpFive' has been exemplary from start to finish. Prior to ordering, I emailed WarpFive with a couple of questions regarding the Steelhead stove fan and they replied within minutes. I then went ahead and ordered the 'Steelhead Stirling Engine Stove Fan'. From the moment I unpacked the fan it was obvious that it had been very well engineered and assembled. With Very minimal assembly on my part, I soon had it sitting pride of place on my wood stove. Within only a few minutes it started turning and as promised the fan ran smoothly and quietly. As well as being very efficient in circulating warm air, it is also intriguing to watch. All I can say is, Well done WarpFive and five stars from me