Description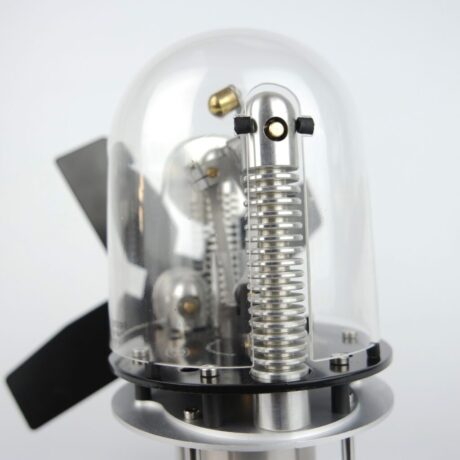 The dust cover assists in keeping your engine ash and dust free thereby maintaining optimum performance.
It has been designed to retro fit all Warpfive Stirling engines including older models.
It is a beautiful clear dome formed from high temperature polycarbonate and is acoustically isolated via rubber mounting feet.  The design is reminiscent of a vintage glass display dome. 
The dust cover  can be used on a working engine so long as it does not exceed 90°C (194°F).  In order to keep the cover cool,  ensure that you start the engine as soon as it reaches operating temperature.  Also ensure that you place your Stirling engine at least 150 mm (6 inches) from the flue.
Remember to always use your cover when cleaning your stove as it helps to avoid airborne ash contamination. It is also useful in protecting your engine when it is not in use during the summer months. 
Clear dome formed from high temperature polycarbonate -acoustically isolated via rubber mounting feet
Retro fits all Warpfive Stirling engine fans