Description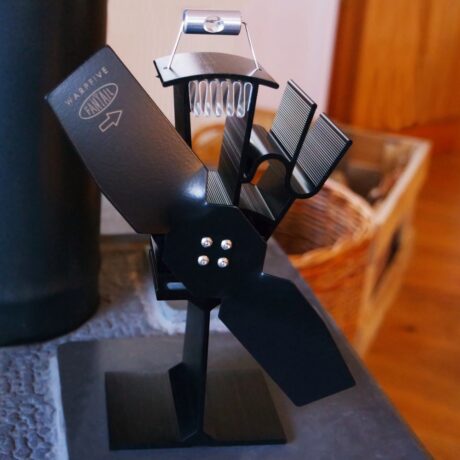 The Fantail Stove Fan is a refined thermoelectric fan with an ultra low start-up temperature of only 60 C (140 F). 
In order to protect the generator from excessive heat,  overheat protection via the addition of a bi-metalic strip is included. 
The Fantail Stove Fan also benefits from Warpfive thermo-boost technology.  This clever technology improves thermodynamic heat transfer and results in enhanced performance and longevity.
It operates across a broad range of temperatures and optimum performance is achieved between 60 C (140 F) and 250 C (482 F).
The Fantail Stove Fan is the ideal choice for cooler stove surfaces. If you are unsure of your stove surface temperature, please view our range of  thermometers 
Thermoelectric Fan
The Fantail Stove Fan uses a robust thermoelectric generator which operates using the Seebeck effect to provide a maximum airflow of 250 CFM.   
The Seebeck effect is a thermoelectric phenomenon discovered in 1821 by Thomas Johann Seebeck.  It is the phenomenon in which a temperature difference between two dissimilar electrical conductors or semiconductors produces a voltage difference between the two substances.
Positioning
In order to protect your Fantail Stove Fan from excessive heat, please place it to the side of the flue.  It should not be placed directly in front of the flue, as this will cause damage.
Thermoelectric design with overheat protection
Thermo-boost technology
Start-up temperature 60° C (140° F)
Maximum stove top temperature 340° C ( 644° F)
Circulates in excess of 250 CFM of air
Uses a 2 blade fan (220mm, 8.6 inch diameter) 
Operation is quiet
Hard-wearing black anodised finish
Beautifully machined solid aluminium carry handle
1 year manufacturer's warranty
Overall height: 238 mm (9.37 inches)
Weight: 590 gr / 1.3 lbs
Base dimensions: 100 mm X 75 mm (4 inches X 3 inches)
Fan diameter: 220 mm (8.6 inches)