About Warpfive™ Stirling Engine Design
Warpfive fans are small precision engineered Stirling engines, which are 100% mechanical and do not have any electric components which may stop working if overheated. Consequently they are extremely reliable and with care will last a lifetime.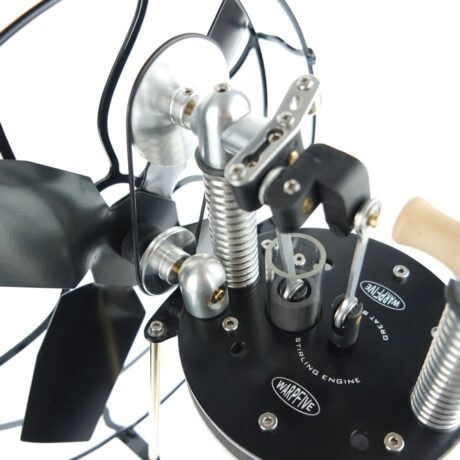 Every engine is precision engineered and handbuilt with durable materials like stainless steel, aluminium, brass and Borosilicate glass.  As a result they operate quietly – typically 28dB.   Additionally advanced materials (such as graphite) and low friction bearings ensure low maintenance.  And a silver themodynamic heat plate ensures that heat flow is optimised. 
Warpfive Stirling engine fans have a high power output and low start up speed.  For this reason they move large volumes of air.  
All of our Stirling engine fans are individually handbuilt, assembled and tested in Great Britain and come with a  3 year manufacturer's warranty.
STIRLING ENGINE RELIABILITY TEST
Stirling engines are incredibly reliable.  The engines on the Warpfive test bed have exceeded 22 years of normal use.  During this time period they've been oiled only four times with no other maintenance.

A stove fan is an innovative device that will help you to get maximum warmth from your stove.   When you use a Warpfive Stirling engine stove fan you will heat your room up to 40% faster and reduce your wood usage by up to 22%.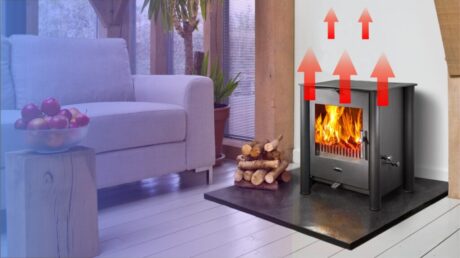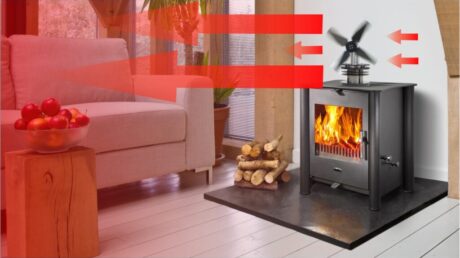 Whilst designing Stirling engine stove fans, our engineers use FLIR cameras to optimise thermodynamic design. In this footage you will notice the colour differential on the working Stirling engine. The base is bright yellow where it is hottest and then changes to purple / blue where it is coolest. The goal in Stirling engine design is to have the greatest thermal difference between the base and the top of the engine. This results in optimum performance and maximum power output.
A Stirling engine works by moving a sealed volume of air from the hot bottom plate to the cool top plate of the engine. As the air moves from the cool plate to the hot plate it is rapidly heated, it expands and pushes the piston up. As the air is moved from the hot plate to the cool plate it cools rapidly and contracts, this creates a vacuum which pulls the piston down. This same volume of air is rapidly heated and cooled many times per second – this is known as a Stirling cycle engine.  As the piston is connected to a crank shaft it causes the crank to rotate and this produces the mechanical power to rotate the fan blades.  Read more here
How we handbuild our Stirling engines?
Warpfive hand build a range of Stirling engines which are each produced from precision engineered, durable materials.  Advanced materials (such as graphite) and low friction bearings are also used to ensure longevity and low maintenance.  In this video, you can see how these components are put together to build a Warpfive Stirling engine fan.
Warpfive Fans design and manufacture a full range of Stirling engine fans for use across a variety of applications.  
Warpfive™ R&D
Our success is based on the ability to create new and compelling products, for this reason research & development is ongoing. 
We are acutely aware that a low-emission future relies heavily upon efficient thermodynamic management systems. To this end our engineers invest a lot of time examining and researching emerging technology in order to improve our products and the performance of low-emission alternative power sources.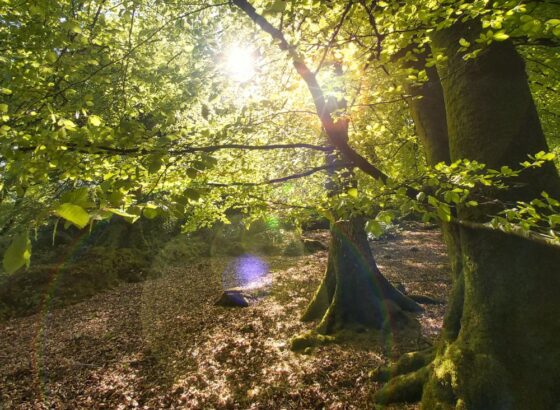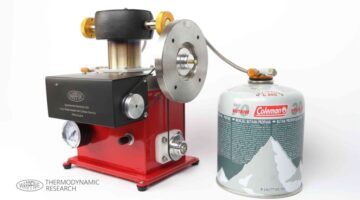 Warpfive 14cc water-cooled twin cylinder Gama experimental generator. The generator is pressurised to increase performance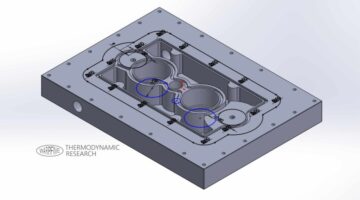 Warpfive Stirling engine heat exchanger manifold for use with liquid cooling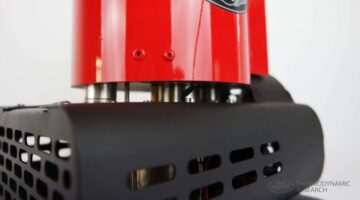 Warpfive Stirling engine prototype generator for use with alternative heat sources such as the sun, gas etc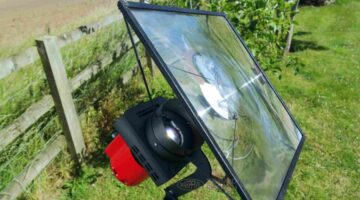 Testing of Warpfive Stirling engine generator powered by the sun using a Fresnel lens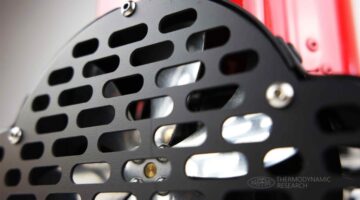 Close up of Warpfive Stirling engine generator cooling fan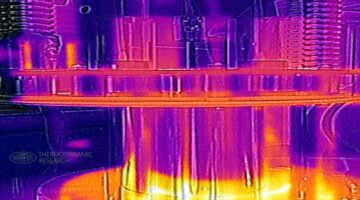 FLIR image of heat transfer within a Stirling engine indicating areas of high and low temperature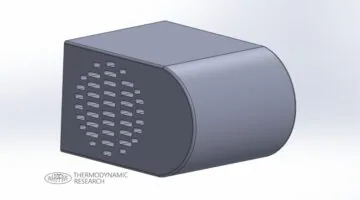 Warpfive heat exchanger development for use with alternative energy sources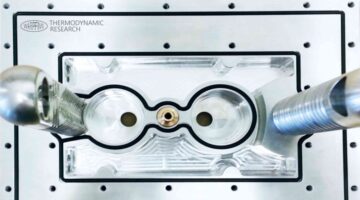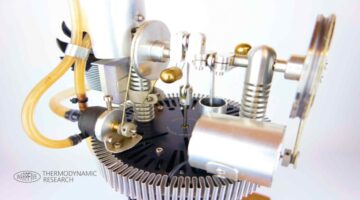 Warpfive prototype Stirling engine generator – finned, water-cooled design and built to optimise thermodynamics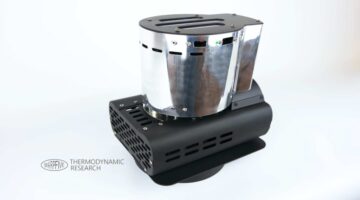 Warpfive experimental single cylinder Stirling engine air-cooled generator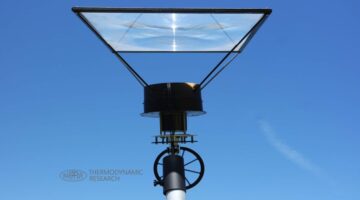 Warpfive compact Stirling engine under test using a Fresnel lens and sun tracking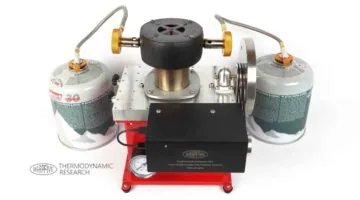 Warpfive 14cc water-cooled twin cylinder Gama experimental generator powered by camping gas through an annular burner for off-grid use
The hot air stirling engine is noted for its high efficiency, quiet operation, and the ease with which it can use almost any heat source. This compatibility with alternative and renewable energy sources has become increasingly significant as the price of conventional fuels rises. The Stirling engine is currently exciting interest as the core component of solar powered electricity generators, as well as in the space industry to power satellites.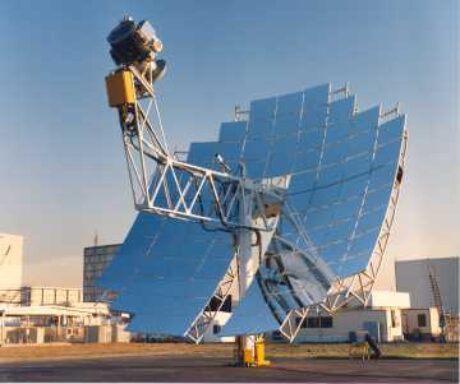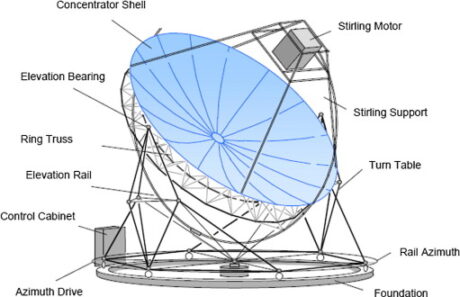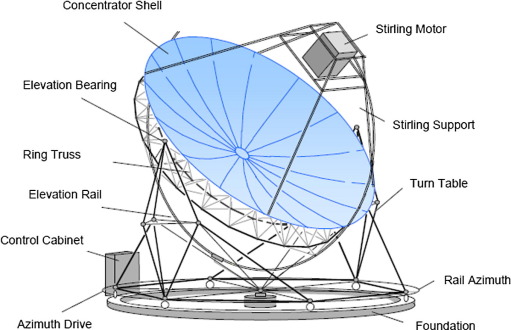 Since the Stirling engine is efficient, produces less pollution than most other kinds of engines, and operates on virtually any kind of fuel, efforts have been made intermittently since the late 1930s to reduce its manufacturing costs. Modern versions of the Stirling engine employ pressurized hydrogen or helium instead of air. Since the 1970s the engine has been adapted for many uses, including cryogenic refrigeration, submarine propulsion, and electrical production.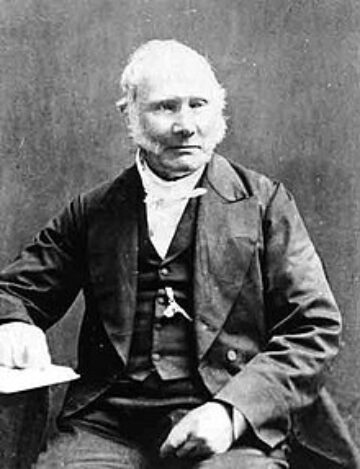 Stirling engine history – Robert Stirling 
Reverend Robert Stirling of Scotland invented the Stirling engine in 1816. 
During that period many of the early high-pressure steam boilers exploded because of poor materials and faulty methods of construction. The resultant casualties and property losses motivated Stirling to invent a power cycle that operated without a high-pressure boiler. In his engine (patented in 1816), air was heated by external combustion through a heat exchanger and then was displaced, compressed, and expanded by two pistons. Stirling also conceived the idea of a regenerator to store thermal energy during part of the cycle and then return this energy to the working fluid.
His company manufactured engines from 1818 to 1922, during which time they were used to pump water on farms and to generate electricity.
Stirling received additional patents in 1827 and 1840 for improvements in the design of his engine. He was made a posthumous inductee to the Scottish Engineering Hall of Fame in 2014.