Here you can shop the full range of Warpfive eco-friendly products. We aim to create beautiful products which you can enjoy and admire for a lifetime.  All of our products are designed and hand built to combine classic elegance with engineering excellence.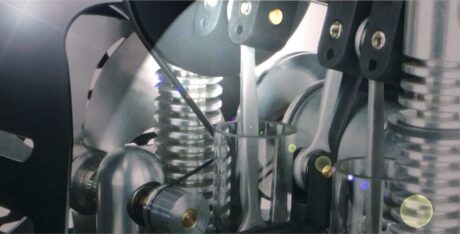 Our Stirling Engine Fans
Warpfive Stirling engine fans are silent miniature engines which use mechanical power to rotate a fan blade. Not only will you be fascinated by their distinctive appearance, you will also enjoy excellent Stirling engine performance.
Stirling engines are purely mechanical and operate quietly which makes them highly desirable for certain applications.  While they require great precision to build, you will be rewarded with exceptional reliability, power and longevity.  
The way a Stirling engine works
Stirling engines work by moving a sealed volume of air from the hot base to a cool top plate. The air is rapidly heated and cooled as it moves from the cool top plate to the hot base.  The warm air expands and causes the piston to push up.  While the cool top plate rapidly cools the air and causes it to contract.  This results in a vacuum which pulls the piston down.  The same volume of air is rapidly heated and cooled many times per second, extracting energy for the engine to work.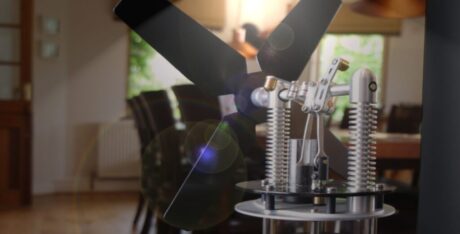 Warpfive Online Shop
Please enjoy browsing our product range which includes Stirling engine stove fans, a selection of vintage inspired table fans, thermometers and other accessories. It's also a great place to shop for the perfect gift.
All of our products are designed and precision engineered in the UK.