Follow our user guidelines and keep your Stirling engine in perfect working condition.  Find all the information you require to maintain your engine, clean & relubricate it.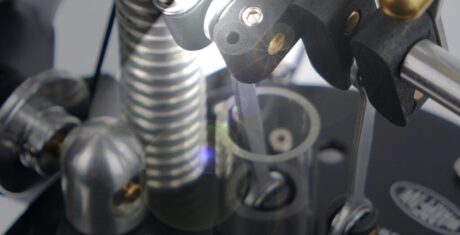 If your engine is ever damaged in any way, you can send it in for repair.  Sometimes things go wrong in busy households and items can get broken – if this happens to your engine, we can fix it. 
You are also welcome to return your engine for a service . A service includes re-lubrication and the replacement of any worn parts.  Please note if the engine requires cleaning prior to servicing, an additional fee will apply.
If you do return your engine for servicing or repair, please do not return the fan blade, and please remember to include your name, email address and other contact details. 
Please contact us for more information.
With care, your Warpfive Stirling engine should last you a lifetime. It is supplied with all of the essential items you will need for its easy upkeep and maintenance. 
You will know when your engine needs to be cleaned and lubricated, because it will become noisy and it may struggle to get going. We recommend keeping your engine clean and free from airborne dust or ash as much as possible – the dust cover is a useful accessory which will assist in this.
It will be necessary to clean and lubricate the displacer shaft on your engine once a season or after every 1000 hours. Please refer to the diagram and instructions below.  If used extensively above 250°C (482 °F) lubrication will be required more frequently.
Locate the displacer shaft – the vertical shaft that enters the top plate through the bronze bush (marked A on the diagram).
Rotate the propeller until the displacer shaft is at its highest extent.  Wipe the shaft clean with a cotton bud or tissue, removing any ash / dust residue. Repeat until the shaft is clean.
Dip the small hex key (found in your supplied maintenance kit), or cocktail stick or pin or something similar into the vial of high temperature lubricant.
Touch the shaft (marked B on the diagram) and transfer a small amount of oil to the shaft (no more than a light smear is required). Oil the entire circumference of the shaft.
Do not oil the graphite piston or any other component as this will damage your Stirling engine.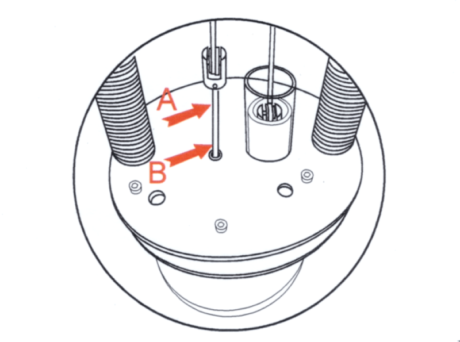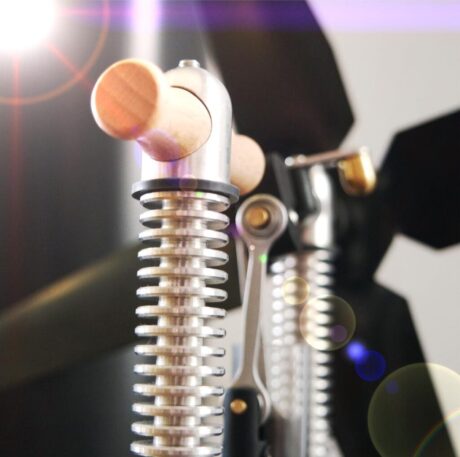 Owner Handbooks
You can find care instructions in your owner's handbook. Please contact us if you would like a copy emailed to you.  Please remember to let us know which model engine you have.