Description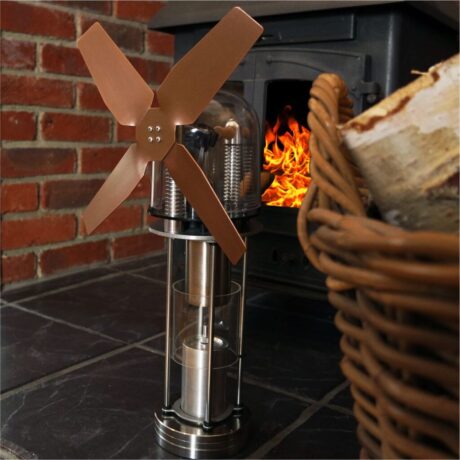 The Firefly hearth fan is a Stirling engine fan specifically designed for use in front of your open fireplace, contemporary suspended, or pivoting stove.  It can also be used with stoves that have a curved top, or which are very tall or have a heat-protected coating
The Firefly uses a bespoke alcohol burner which can be filled with denatured alcohol, Methylated Spirits or any other eco-friendly bio ethanol fuel.  Read more about bio ethanol fuel here.   
When the burner is filled,  the engine can run for approximately 24 hours, spreading warm air consistently throughout your home.  At peak output the Firefly will move in excess of 442 CFM (cubic feet per minute) of air.  
The Firefly is built with a solid stainless steel base and comes with an antique brushed solid copper fan blade.
The versatile design which can also be used during the summer months to move cool air, includes an in-built essential oil diffuser.  
Stirling Engine Design 
Warpfive hearth fans are small precision engineered Stirling engines, which are 100% mechanical and do not have any electric components which may stop working if overheated. Consequently they are extremely reliable and with care will last a lifetime.
Every engine is precision engineered and hand built with durable materials like stainless steel, aluminium, brass and Borosilicate glass.  As a result they operate quietly – typically 12dB.  
Advanced materials (such as graphite) and low friction bearings ensure low maintenance, plus heat flow is optimised with a silver thermodynamic heat plate.
Stirling engine hearth fans have a high power output and low start up speed so they move large volumes of air. 
Every engine is hand-crafted, assembled and tested in Great Britain.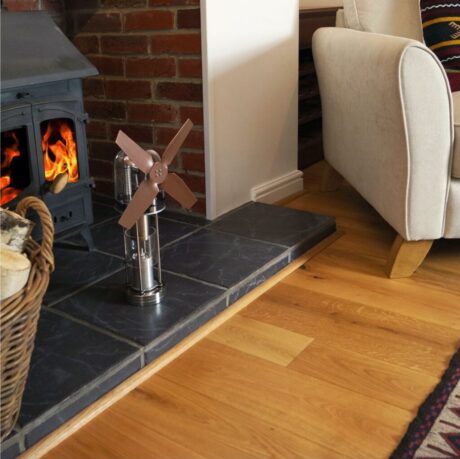 Stirling Engine Hearth Fan
Over the years we have had many inquiries from people with contemporary wood stoves or open fireplaces about how they could benefit from a Warpfive Stove Fan. 
We've spent some time thinking about a design which would work with these modern stoves and others that are  suspended from the ceiling, pivot, or have a curved top. 
We are delighted to launch our latest innovation – the Firefly hearth fan.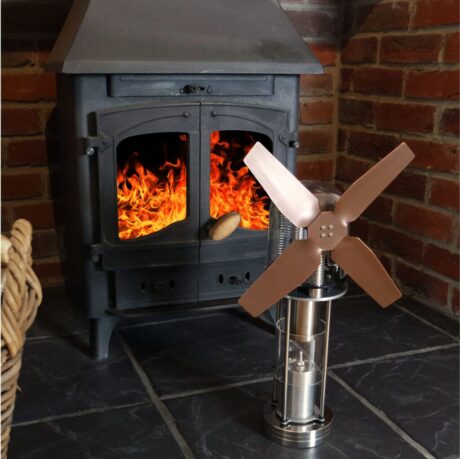 Stirling engine hearth fan powered by alcohol 
Antique brushed solid copper fan blade
Runs for approximately 24 hours on a single fill of alcohol (120ml / 4 fl oz)
Alcohol burner includes integral essential oil diffuser
Bearing cartridge system offering reduced friction and ease of replacement – read more here
CNC acuminated aluminium posts for improved thermodynamic performance
Light-weight composite crank for higher RPM
A beech wood handle for easy handling 
Circulates in excess of 442 CFM (cubic feet per minute) of air
Supplied with a long lasting glass fibre wick
Dust cover and maintenance kit included
High aspect ratio fan circulates maximum air at low RPM
Operation is quiet – typically 12dB
Use during the summer to move cool air
3 year manufacturer's warranty
Height: 480mm/18.9 inches
Base dimensions: 140mmx140mm /5.5 x 5.5 inches
Weight: 2kg/4.4lbs
Fan diameter: 285mm/11.2 inches​