Description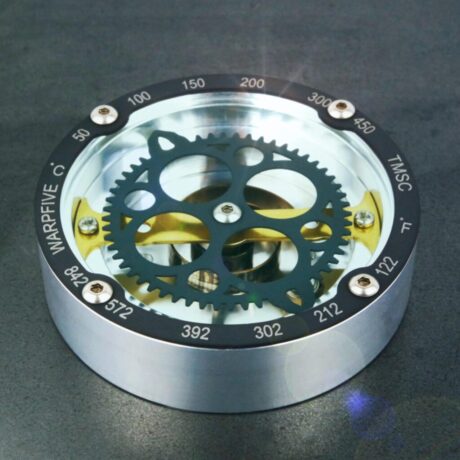 The Skeleton Wood Stove Thermometer is a finely crafted instrument which displays its  inner mechanical workings whilst in use. 
Watch the bi-metallic strip expand and contract as the temperature changes,  plus take Celsius and Fahrenheit measurements while the cog dial turns.
The Skeleton thermometer is turned from a solid billet of aluminium and hand-built with a full size bi-metallic strip.  The distinctive design includes a brass cross beam and cog dial with Fahrenheit and Celsius pointers. 
A Borosilicate glass face protects the instrument from ash / dust contamination and numerals are engraved to ensure permanence.
You are able to measure from room temperature up to 450 C (842 F) with a Skeleton thermometer.   Simply place the instrument onto your stove surface to receive accurate, reliable and consistent measurements.
Designed and manufactured in Great Britain. 
Wood Stove Thermometer
A stove top thermometer is useful in ensuring that you do not overheat your stove, and in helping you to determine your most economical burn rate.
See here for more information about why you should use a stove thermometer.
Skeleton design with visible brass cross beam, cog-dial and bi-metallic strip
Borosilicate glass face to protect from ash / dust contamination
Machined out of a solid billet of aluminium
Permanent engraved numerals
Full sized bi-metallic mechanism
Rapid heat transfer technology
Outer Diameter:  74 mm (2.9 inches)
Height: 22 mm (0.87 inches)
Weight: 146 g