Description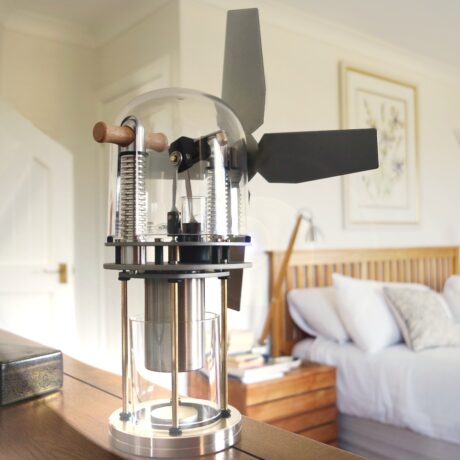 Description
The Aura Stirling engine fan diffuser uses a single tealight candle to disperse your favourite essential oil fragrance.
Use it on any indoor or outdoor table top to create a calm, fragrant atmosphere. A single tealight will allow it to run quietly for up to 8 hours. You can also use incense cones or sticks or even scented tealights.  
Depending on your choice of essential oil you can purify the air, improve your sleep, relax, increase your energy levels or even repel insects when used with Citronella or Peppermint oil.
Find out more about our other Stirling engine table fans.
Stirling Engine Design 
Warpfive table fans are small precision engineered Stirling engines, which are 100% mechanical and do not have any electric components which may stop working if overheated. Consequently they are extremely reliable and with care will last a lifetime. Find out more here
Every engine is precision engineered and hand built with durable materials like stainless steel, aluminium, brass and Borosilicate glass.  As a result they operate quietly – typically 28dB.  
Advanced materials (such as graphite) and low friction bearings ensure low maintenance, plus heat flow is optimised with a silver thermodynamic heat plate.
Stirling engine table fans have a high power output and low start up speed so they move large volumes of air. 
Every engine is hand-crafted, assembled and tested in Great Britain.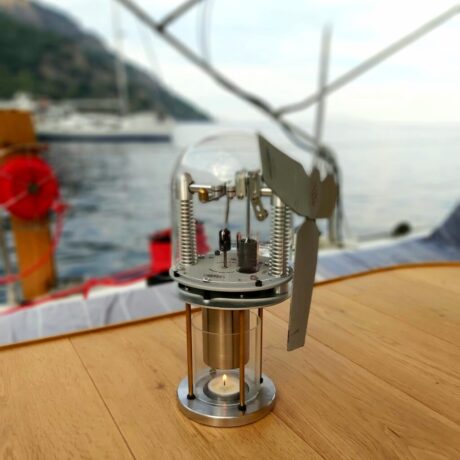 WARPFIVE 22/23 – NEW RANGE EXPLAINED
At Warpfive we are constantly striving for performance perfection so we are delighted to bring our latest range to you. Please take a look at the new product images to view the design modifications which include –
Bearing cartridge system offering reduced friction and ease of replacement – read more

 

here
CNC acuminated aluminium posts, solid stainless steel base and upgraded displacer for improved thermodynamic performance
A shortened, light-weight composite crank for higher RPM and increased power
A beech wood handle for easy handling 
Stirling Engine Fan Diffuser - Aura
Table top aroma diffuser fan
Stirling engine with stainless steel base
Powered by a tealight candle (candle not included)
Integral essential oil dispenser
Candle flame is shielded with a Borosilicate glass flame guard designed to enhance the glowing candlelight
Use indoors or outdoors
Use with incense cones, incense sticks, scented tealight candles or essential oil
Operation is quiet – typically 28dB
Dust cover and maintenance kit included
3-year manufacturer's warranty
Overall height: 385mm/15.16 inches
Base dimensions: 110mm/4.3 inches
Weight: 1.7 kg/3.7 lbs
Fan diameter: 285 mm/11.2inches
Aura Stirling Engine Fan Diffuser
Average rating:
2 reviews
Dec 23, 2021
It's the best gift we've ever received



My nephew and his wife love the fan I purchased recently for them. My nephew said "it's the best gift we've ever received".  Funny…in the surface it's just a fan…but it's not "just a fan" but rather a piece of art with the added benefit of utility.



Dec 13, 2020
I absolutely love this little 'fan'
I absolutely love this little " fan ". It is currently spreading harmony all around my home. I really like the scented beeswax candles, and could almost swear they are helping to clear my sinuses. I am a retired auto technician and can really appreciate the engineering and quality that went into this machine. BRAVO!!! WELL DONE. And it came in 3 days! Mesmerizing to watch also. THANK-YOU SOOOO MUCH.