Description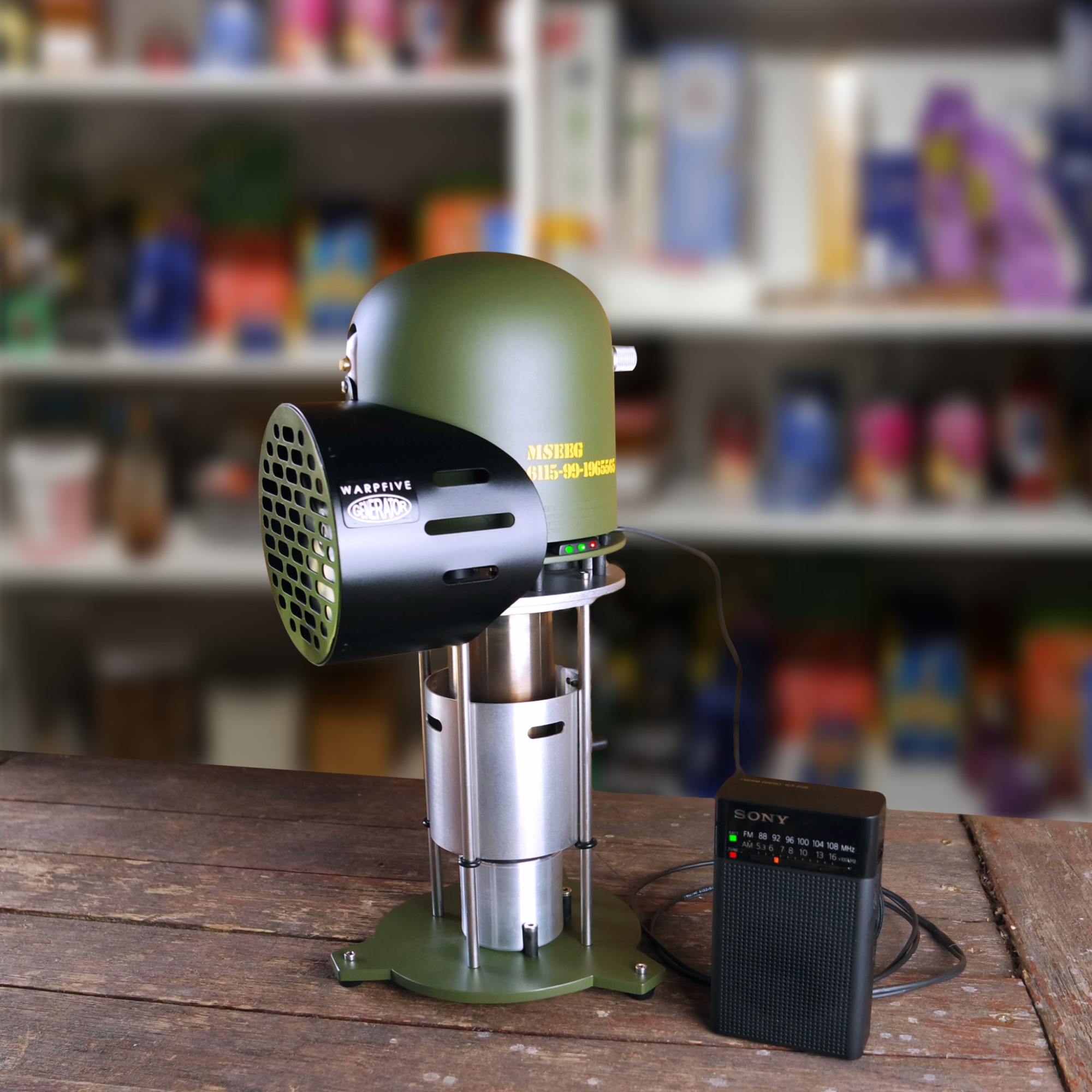 Stirling engine generators are not a commodity item, so we are thrilled to offer our ready to use off-grid Miniature Stirling Engine Emergency Generator (MSEEG).
It is a magnificent machine which will enthrall, entertain and provide a valuable function to anyone living off-grid or a prepper lifestyle.
The Miniature Stirling Engine Emergency Generator (MSEEG) is designed for use as an indoor emergency communication system held in long-term storage.  It can be used anywhere and is small enough to be used on a table top.  It functions quietly and has no batteries to expire. Furthermore the Generator has simple solid state electronics (no microchips) so is extremely reliable. 
The Stirling Engine Generator works exclusivly with the supplied Sony radio receiver for FM and AM reception.  It will run on on any fuel such as denatured alcohol, Methylated Spirits or bio ethanol fuel. The supplied metallic / fibreglass wick provides exceptional longevity.
Stirling engine collectors may wish to use the MSEEG as a demonstrator or as a unique radio listening device. 
Stirling Engine Design 
The Miniature Stirling Engine Emergency Generator (MSEEG) is a small precision engineered Stirling engine.  Stirling engines are 100% mechanical, with no electric components or batteries, so are ideal for storage as a long-term communication system.
The Generator is custom built with precision engineered parts and durable materials like stainless steel, aluminium, brass and Borosilicate glass.  It includes advanced materials (such as graphite) and low friction bearings plus a bespoke fan to ensure it runs at optimum temperature. 
The MSEEG is designed and hand-assembled in Great Britain.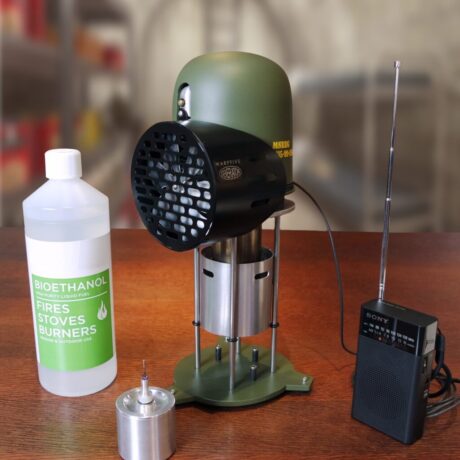 Stirling Engine Generator
A Stirling Engine Generator is simply an electrical generator powered by a Stirling engine.
Stirling Engine Generators are not mass manufactured items.  They are extremly difficult to build and therefore highly sought after. 
The Warpfive Miniature Stirling Engine Emergency Generator (MSEEG) can be used as a receiver for radio or emergency communications – it comes with a Sony radio as standard.  
It's noteworthy that the MSEEG will work with any fuel – you can use Methylated Spirits, bio ethanol, denatured alcohol or any other available fuel.
Because of the technical skill and the bespoke nature of this item, it takes time to build.  Delivery time will be confirmed on receipt of order.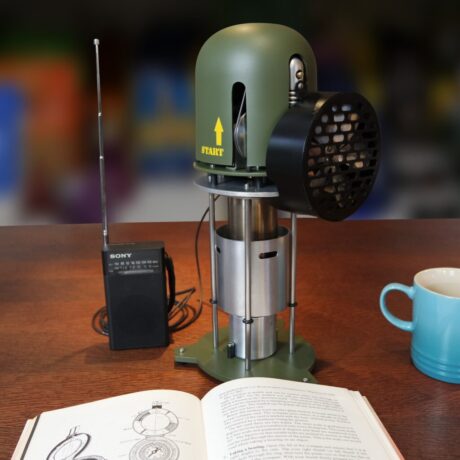 Stirling engine generator powered by alcohol 
Runs for approximately 6 hours on a single fill of alcohol (60ml / 2 fl oz)
Supplied with a long lasting metallic and fibreglass wick
Dust cover and maintenance kit included
Integral fan for optimum temperature control
Operation is quiet – typically 28dB
3 year manufacturer's warranty
Height: 350mm/13.8 inches
Base dimensions: 150mmx150mm /5.9 x 5.9 inches
Weight: 2.3kg/5.1lbs