Description
Description
The Glasshopper is a low temperature Stirling engine stove fan built with a clear glass cylinder which enables a view of the internal workings. 
It'll work on any cooler stove surface like Soapstone, or with cooler fires that are fed irregularly.  Use on any wood stove or multi-fuel stove surface with a low start up temperature of 90° C (194° F). 
The Glasshopper gets it's name because you can see the displacer 'hopping' inside the clear Borosilicate glass cylinder while the engine works.
When you use this low temperature engine you can reduce your wood usage by up to 22% and heat your room up to 40% faster.
Stirling Engine Design
Warpfive stove fans are small precision engineered Stirling engines, which are 100% mechanical and do not have any electric components which may stop working if overheated. Consequently they are extremely reliable and with care will last a lifetime. Find out more here
Every engine is precision engineered and hand built with durable materials like stainless steel, aluminium, brass and Borosilicate glass.  As a result they operate quietly – typically 28dB.  
Advanced materials (such as graphite) and low friction bearings ensure low maintenance, plus heat flow is optimised with a silver thermodynamic heat plate.
Stirling engine stove fans have a high power output and low start up speed so they move large volumes of warm air. 
Every engine is hand-crafted, assembled and tested in Great Britain.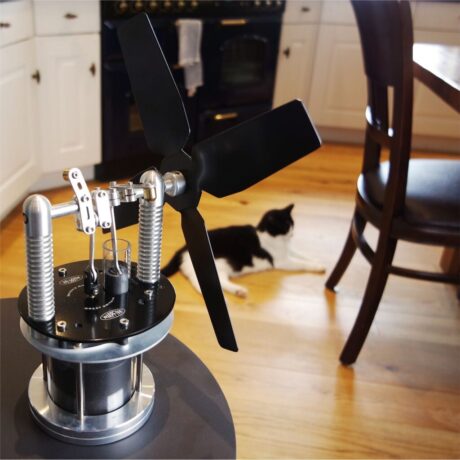 Latest Features
The 2021 / 2022 Glasshopper model includes the following design modifications –
Profiled fan blade for enhanced air circulation
Light-weight composite crank for higher RMP
Dust cover included
Low Temperature Stirling Engine
Low temperature Stirling engine with aluminium base
Clear glass cylinders enable a view of the moving piston and displacer
Low start-up temperature of only 90° C (194° F)
Maximum stove top temperature 450° C (842° F)
Circulates in excess of 320 CFM (cubic feet per minute) of air
Uses a large 4 blade high aspect ratio fan (285mm, 11.2 inch diameter) to circulate maximum air at low RPM
Light weight composite crank
Operation is quiet – typically 28dB
Dust cover & maintenance kit included
3 year manufacturer's warranty
Overall height: 325 mm (12.8 inches)

Base dimensions: 110 mm (4.3 inches)

Weight: 1 kg / 2.2lbs0

Fan diameter: 285 mm (11.2 inches)
Glasshopper Stirling Engine Stove Fan
Average rating:
9 reviews
Apr 27, 2022
Well Engineered
Worth the wait for its availability. Throws out the heat from our alcove silently and warms the room well. Looks good and it's a good conversation piece whether the stove is in use or not. I like the clear chamber so you can see the piston working.
Dec 15, 2021
Great Engineering
Fan arrived very quickly in great packaging, engineered extremely well and works a treat. Looks fabulous when operating and still looks fab when not. Brilliant, thanks.
Dec 2, 2021
Glasshopper Dream Fan
I decided to order the Glasshopper fan. It arrived very quickly and in great packaging. It works great, just put it on top of the stove and viola. It is truly a work of art, beautiful, and runs nearly completely silently.
Oct 19, 2021
Excellent product and services
Great design and engineering! It works very well on my soapstone stove. Quick and polite response, and prompt delivery increases trust to the product. The logo of "Great Britain" on the top plate is shining!
Oct 9, 2021
The best of British...
I ordered the Glasshopper for a friend of mine in New Zealand (on the back of my own purchase of the sidewinder). WarpFive are a very good company to do business with and any questions I posed were answered swiftly and actually called me back informing me they had found a cheaper courier.
The fan arrived in NZ 3 days ahead of forecast and my pal is delighted with the build quality, the engineering (even as they enter summer-it will be a centre piece?) and the warm fuzzy feeling that a small firm in Dawlish can make little gems like this! Chapea!
Apr 17, 2021
Arrived after their long journey in excellent condition
Recieved my twinspeed and glasshopper stove fans last week. Arrived after their long journey in excellent condition, nice to see the packaging is recycled/recyclable materials. The engineering and construction of these fans is second to none. Work like a dream and very quiet! Thoroughly enjoy watching them in action, almost mesmerizing. ????? from me.
Feb 27, 2021
Delivered at warp speed
Delivered at warp speed! Set it up really simply and lit the fire. When warm, gave the blade a little nudge and away it went. Great. Not much evidence of a draft from it and wonder whether the blades are as aerodynamic as they could be … but it looks great.