Description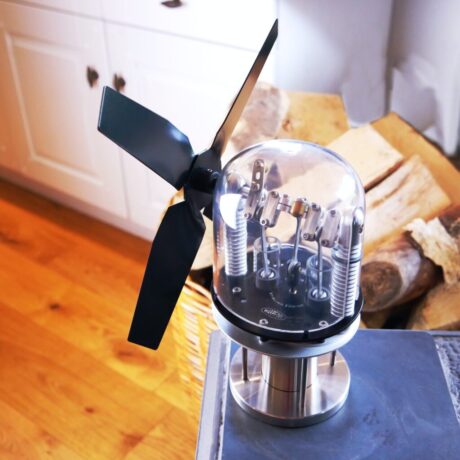 Description
The Twinspeed  is the best stove fan for large rooms because it has an exceptionally high air output – in excess of 442 CFM (cubic feet per minute) of air.  
It'll work on any cool to high heat wood stove or multi-fuel stove surface and has a start-up temperature of 120° C (248° F). 
Named the Twinspeed for its twin piston cylinders, it provides high performance with maximum airflow.
When you use a Twinspeed  you can reduce your wood usage by up to 22% and heat your room up to 40% faster.
If you are the owner of a diesel stove, please read advice on the FAQs page.
Stirling Engine Design
Warpfive stove fans are small precision engineered Stirling engines, which are 100% mechanical and do not have any electric components which may stop working if overheated. Consequently they are extremely reliable and with care will last a lifetime. Find out more here
Every engine is precision engineered and hand built with durable materials like stainless steel, aluminium, brass and Borosilicate glass.  As a result they operate quietly – typically 28dB.  
Advanced materials (such as graphite) and low friction bearings ensure low maintenance, plus heat flow is optimised with a silver thermodynamic heat plate.
Stirling engine stove fans have a high power output and low start up speed so they move large volumes of warm air. 
Every engine is hand-crafted, assembled and tested in Great Britain.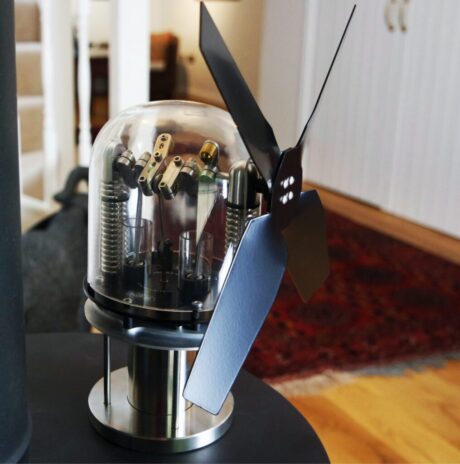 Latest Features
The 2021/22 Twinspeed model includes the following design modifications –
Solid stainless steel base with no uprights for improved thermodynamic performance
Profiled fan blade for enhanced air circulation
Light-weight composite crank for higher RMP
Best stove fan for a large room - Twinspeed
Twin cylinder Stirling engine
High performance Stirling engine with solid stainless steel base for improved thermodynamics
Start-up temperature 120° C (248° F)
Maximum stove top temperature 450° C (842° F)
Circulates in excess of 442 CFM (cubic feet per minute) of air
Uses a large 4 blade high aspect ratio fan (285mm, 11.2 inch diameter) to circulate maximum air at low RPM
Light weight composite crank
Operation is quiet – typically 28dB
Stainless steel displacer and regenerator boost performance
Dust Cover & maintenance kit included
3-year manufacturer's warranty
Overall height: 325 mm (12.8 inches)
Base dimensions: 110 mm (4.3 inches)
Weight: 1.8 kg / 3.97lbs
Fan diameter: 285 mm (11.2 inches)
Twinspeed Stirling Engine Stove Fan
Average rating:
5 reviews
Dec 3, 2021
5 Star Fan



I just want you all to know that I'm extremely pleased with your product!!! Shipping to the USA was super quick-(4 days) with a tracking number so I knew when it would arrive. The quality and craftsmanship is more than I expected. This fan will pay for itself in about 2 years and will last for many years, probably generations. A YouTube channel called Wranglerstar showed, in detail this very same fan that he had in his shop, I was instantly interested and determined to get one.  Thanks Again,  from across the pond.



Apr 17, 2021
Arrived after their long journey in excellent condition
Recieved my twinspeed and glasshopper stove fans last week. Arrived after their long journey in excellent condition, nice to see the packaging is recycled/recyclable materials. The engineering and construction of these fans is second to none. Work like a dream and very quiet! Thoroughly enjoy watching them in action, almost mesmerizing. ????? from me.
Jan 20, 2021
Modern, stylish & effective
It is a beautifully made fan and its appearance is modern, stylish and effective.
Dec 28, 2020
Congratulations on a beautiful little machine
As the twinspeed fan was to be a Christmas present (for myself) and I had no idea of delivery time, it was ordered in plenty of time. It was delivered very promptly, so had to be kept under wraps for the best part of the month. It is beautifully crafted. I note that the fan is direct drive with a bigger fan rather than a geared-up belt drive as illustrated. I think this is more elegant and avoids the procurement of replacement drive belts. We have used a thermo-electric fan for some years. That is rather smaller and operates at lower temperatures, but is nothing like as interesting in operation. Placement of the Twinspeed is more critical because of its relative size but can be accommodated within the footprint of the stove top, fortunately there is no flue to beware of. I have yet to work out how to realistically compare the performance of the two fans, but the real beauties of the Twinspeed is its aesthetic appeal and as a demonstrator of the principle of the stirling cycle and, hopefully, a teaching aid for some of the laws of thermodynamics, I look forward to the grandchildren being old enough! Congratulations on a beautiful little machine. I look forward to many years of service.
Feb 8, 2020
A truly excellent experience in dealing with you
THANKYOU. Fast, accurate and a truly excellent experience in dealing with you from the first phone call to the delivery. The Twinspeed is everything your website and YouTube hinted at. A great addition to heating our house and it's also good enough simply to stare at!!